2SER 'ALBUM OF THE WEEK'
" intoxicating electro grooves 4/5 " [3D World]
" pretty spesh... an excellent electro comp 4/5 " [Revolver]
" some world class... cool new grooves 9.5/10 " [hEARd]
" Essential... 'The Score' is possibly the best piece of
Australian electronica I've heard this year " [Zebra /Inpress]
" ice cool " [Sydney Star Observer]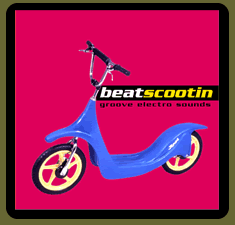 [From Alec Mackenzie: Zebra /Inpress]
" ...'Beatscootin' is.. a compilation of rather inspired chilled grooves,
swanky electronica, and jazzy drum 'n' bass tracks... Cindii impresses with
opening track 'Aloha Daddy-O', AtomiK-aL tweaks the funk on 'Rok da Blok'
and Champagne (featuring Corrina) score full points for the reintroduction
of vocals in a smooth and hip-shaking groove called 'Reel'. Society do a
noirish beat-mix of Mat White's 'Circle of Friends', while Little Nobody vs E
sample double-bass and brass choruses. They pitch these up against a moog
bassline and a feel of melancholic angst and somehow come up breathing
positivity. But the coup d'état here is rammed home by General Electrik,
who wins new friends with his gorgeous remix of FC Europa's track 'The Score' -
it's possibly the best piece of Australian electronica I've heard this year.
Essential. "
Tracklisting
01 CINDII - Aloha Daddy-O
02 CUS 1 - Boogie Down Unk [Stars and Moon remix]
03 ATOMIK-AL - Rok Da Blok
04 The 5000 FINGERS OF DR T - Groovin'
05 FC EUROPA - The Score [General Electrik remix]
06 The HOONG & I - Keep A Rockn'
07 ALIEN HEADSPACE - Tower Block
08 CHAMPAGNE feat Corrina Dolso - Reel
09 MR FINK - In The Centre
10 SOCIETY - Baconbag
11 MAT WHITE - Circle Of Friends [Society remix]
12 LITTLE NOBODY vs E - Nobody Lives Here
13 The BLUE HOUR feat Yolanda Podolski - Music's Goitn To Take You There
14 UTE - Outlines
15 DON MEERS - 4.30am