Feature Album - Triple J

Album of the Week - 2SER 107.3 + FBI 94.5

This Is The House by DJ Soup - Hitlisted on JJJ
"...brimming with the crème del la crème of the Australian music scene..."
[The Brag]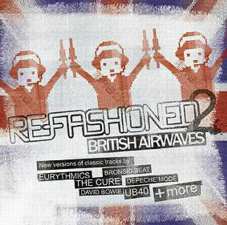 [click image for downloadable hi-res cover scan]
FULL TRACKLISTING
Re-fashioned 2 : British Airwaves
| | |
| --- | --- |
| 01 | ghosts [ japan ] YUM CHA SESSIONS feat WDB |
| 02 | this is the house [ eurythmics ] DJ SOUP feat Damien Millar |
| 03 | temptation [ heaven 17 ] The 5000 FINGERS of DR. T. |
| 04 | my spine [is the bassline] [ shriekback ] GROOVESCOOTER feat Quro |
| 05 | this is not a love song [ p.i.l ] DSICO That No-Talent Hack |
| 06 | smalltown boy [ bronski beat ] SOUTHEND feat Michal Nicolas |
| 07 | the man with the child in his eyes [ kate bush ] MAJELLA O'SHEA |
| 08 | lullaby [ the cure ] ENS |
| 09 | walking on the moon [ the police ] DISJUNCTION REUNION feat Tane Potaka |
| 10 | racist friend [ special aka ] DEEPCHILD feat Andy B |
| 11 | one in ten [dub] [ ub40 ] JEFF DREAD |
| 12 | do you really want to hurt me? [ culture club ] SNORKEL feat Virna Sanzoni |
| 13 | the lunatics [have taken over the asylum] [ fun boy three ] OLLO |
| 14 | reasons to be cheerful [part 3] [ ian dury + the blockheads ] CHUCKNEE |
| 15 | changes [ david bowie ] DUFFO feat Jeff Duff |
| 16 | lucky number [ lene lovich ] BIIKKEE BOY + COOKKEE GIRRL |
| 17 | heartland [ the the ] TELAFONICA |
| 18 | forbidden colours [ david sylvian + ryuichi sakamoto ] DON MEERS |
| 19 | just can't get enough [mothloop mix] [ depeche mode ] GOTYE |

REVIEWS
"Although it compiles UK hits from the late 70s to the early 80s,
Re-fashioned Vol 2 is as far from being an indulgent retro School Disco compilation as you could want. And that's a very, very long way indeed. Not a hint of nostalgia. Just highly imaginative re-workings of an inspired selection of edgy hits from a time when pop and pap weren't synonymous. The result is both as now and as timeless as the songs that inspired it. From proto electro pop through social criticism to reggae drenched soul, this is a remarkably uplifting and satisfying set. There's a beautiful aural experience waiting here for anyone who takes the whole journey in one sitting. The opening Yum Cha Sessions version of Ghosts (David Sylvian's Japan, 1981) is sparse and stripped down, signalling understatement as the dominant mood of the album, which is surprising, given the era we're dealing with here. But it works. Despite the instant radio appeal of high rotation tracks like DJ Soup's This Is The House (Eurhythmics, 1983), or Temptation (Heaven 17, 1983) by the 5000 Fingers of Dr T, the tracks that stick in the mind are Gotye's beatless, melancholic take on Depeche Mode's 1981 hit Just Can't Get Enough and ENS's downtempo instrumental reading of The Cure's Lullaby (surely destined to be the night's closer for a million DJs around the world). Best moments? They're all worthy of mention, but Virna Sanzoni's vocal on Do You Really Want To Hurt Me (Culture Club, 1982), in an arrangement by Snorkel, mines the original for previously unheard depths of pain. The Lunatics Have Taken Over The Asylum (Fun Boy 3, 1981) by Ollo, and Racist Friend (Special AKA, 1984) by Deepchild, restate passionately and deeply soulfully the humanitarian case for a better world."
[Perry Kilmer, Drum Media Magazine]
"The second instalment in Groovescooter's
successful Re-Fashioned series, British Airwaves sees some of Australia's finist reinterpret a variety of seminal tracks from the fertile 80s UK music scene. It would be easy to discard this compilation as a cash-in on the resurgent popularity of 80s music, but the fact that the end result has a real depth and insight proves especially rewarding. While it would be an exaggeration to say that any of the remixes eclipse the originals, some come close, such as Ens' take on The Cure's Lullaby and the Deepchild remake of Special AKA's Racist Friend."
[Cat Magazine]

"A falsetto voice soars above pristine
synth-laden electronic drumbeats. Boys in make-up glide effortlessly while imperious girls with big hair stare past their shoulders. For Georgie and Paris at Sydney label, Groovescooter, the early 80s were a formative time. It marked the duo's first exposure to the exotic delights of community radio and many a record library's worth of Australian and overseas music. British Airwaves is the second volume in the label's critically acclaimed cover series, Re-fashioned. This time they've put the spotlight on British tracks from the Ô80s, reworked by an all Australian cast. Seminal electronic tracks and well-known pop classics by artists like Japan, Shriekback, Bowie, Depeche Mode and many others get the cover and rework treatment. And the artists doing the covering are equally stellar spanning some of the best of the current crop of electronic musicians (Gotye, Ollo, Ens) through to some of the biggest names of the past (Southend, Jeff Dread). Disjunction Reunion dives deep into dub territory with his cover of The Police's Walking On The Moon, while Deepchild and Jeff Dread create equally loping dub worlds (with subject matter from The Specials and UB40 respectively). Elsewhere Southend and 5000 Fingers of Dr T take their inspiration from the bigger end of the pop spectrum (Bronski Beat, Eurythmics). Occasionally it doesn't work. But who ever heard of a cover album that was 100% though Ð nobody mention Yesterdays New Quintet's Stevie album. But mostly it does. Don Meers' cover of Sylvian & Sakamoto's 'Forbidden Colours' is simply sublime. DJ Soup's bombastic Eurythmics cover (featuring Damien Millar aka Frankenfurter from the Rocky Horror Show) is already getting a lot of Triple J airplay. One of the most promising new artists in recent years, Gotye, takes the beat out from under Depeche Mode's 'Just Can't Get Enough' to bring out the classic torch song it always was. The Groovescooter pair enlist ex-Adelaide MC Quro for a slight twist on Shriekback's post-punk classic 'My Spine (Is the Bassline)' and Dsico's version of PIL's 'This Is Not A Love Song' leaves GT's lackluster effort from a few years back for dead. But it's Sydney duo Ollo that make the album worth listening to. Their reworking of 'The Lunatics (Have Taken Over The Asylum)' by Fun Boy Three is simply the best song on the album. They've taken the inherently quirky ska original, added in glitchy broken funk and for the first time from the duo, vocals, and that rare spark of inspiration for a perfect piece of off-kilter pop music. Picked up by Triple J this will be big. Refashioned 2 is great. There is passion and excitement here and in a music industry based on mediocrity that sells units, that's worth checking out."
[Calico, InTheMix.com.au]
"Forget Shannon Noll and his faithful
Moving Pictures cover - a group of underrated Aussie producers give the big guns of British pop, such as Eurythmics, UB40 and even David Bowie, quirky electronic makeovers on this compilation. Special mentions must go to Dsico's electro reworking of Public Image Ltd's This Is Not A Love Song, while the ever-mellow Disjunction Reunion make the Police's Walking On The Moon even lusher and dubbier. The producers have captured the musical essence of the originals. Some of the remixes are even more appealing."
[Chloe Sasson, Metro Sydney Morning Herald ***1/2]
"Hello all. If you will, follow me to discover together
the meaning of the word 'remix'. As you have all no doubt heard over the airwaves recently the eclectic sounds of Re-fashioned 2 you have probably also gained a fresh appreciation for what the word remix really can mean. When I first picked up this CD I did my usual check of the back cover to see who I was going to be listening to. The Eurythmics, The Police, The Cure, UB40, David Bowie? DJ Soup, Groovescooter, Ens, Deepchild, Snorkel, Gotye? What? Can these totally diverse and different genres from totally different time periods coexist on the same piece of plastic? The answer, yes, yes they can. As I listened to the first fairly ambient sounds projecting through my speakers I realised that obviously the above names, even from such a wide spectrum of music, can work because they have one thing in common; music. From the memorable bass riff of Disjunction Reunion's remix of Walking on the Moon by the Police, to the wickedly ambient and thick sounds of Deep Child's remix of Special Aka's Racist Friend, to the beautiful Majella O'Shea remix of Kate Bush's The Man With The Child In His Eyes, you can really hear the effort put into this production."
[Odo, 3D World Magazine]
"For Sydney label, Groovescooter,
the early '80s were a formative time. It marked the duo's first exposure to the exotic delights of community radio (via Canberra's 2XXFM) and many a record library's worth of Australian and overseas music. British Airwaves is the second volume in the label's critically acclaimed cover series, Refashioned. This time they've put the spotlight on British tracks from the '80s, reworked by an all-Australian cast. Seminal electronic tracks by artists like Japan, Shriekback, Bowie, Depeche Mode and many others get the rework treatment. And the artists doing the covering are equally stellar, from Gotye and Ens through to Southend and DJ Soup. The reworking of Fun Boy Three's The Lunatics (Have Taken Over The Asylum) by Sydney duo Ollo is simply the best song on the album. It has the rare spark of inspiration for a perfect piece of off-kilter pop muisc. Picked up by Triple J, it will be big."
[Matt Levinson, Canberra Times]
"Local electronic underground types
reinvent British hits from the '70s and '80s. Japan's seminal Ghosts gets a fetching plink-plonk update by Yum Cha Sessions, mash-up king Dsico squelches p.i.l's This Is Not A Love Song with electro panache, while Majella O'Shea turns in an ethereal take on Kate Bush's The Man With The Child In His Eyes. The Cure's Lullaby becomes even ghostlier courtesy of ENS, Snorkel dub down Culture Club's Do You Really Want To Hurt Me, and Chucknee's hectic take on Ian Dury works a treat. Southend rework Bronski Beat's Smalltown Boy, while Gotye could score a bit of Gary Jules/Mad World action by recasting Depeche Mode's Just Cant Get Enough as a stark piano ballad."
[Cameron Adams, Herald Sun]
"Out of the Groovescooter stables
comes a CD brimming with the crème del la crème of the Australian music scene. In what can only be called discotronica, the album pulses its way through tracks from some of the more famous and some of the more forgettable producers from days gone by. All of the chart topping hits have been lovingly reworked by local producers. DJ Soup drops the peculiar 'This Is The House' from the Eurythmics, a cut up track true to its '80s origin featuring the vocal talents of Damien Millar. It's bound to have you frizzing your hair. The Groovescooter kids bust out the disco with 'My Spine Is The Bassline', a funky bass hop with Quro delivering some of his best vocals yet. Deepchild delivers more of his smoky dub, with the infectious Andy B dropping the smooth as silk vocals. It's full of washed out delay with the Child working his dub box double time on 'Racist Friend'. Ollo bring the quirky with 'The Lunatics', a glitchy fun number featuring themselves on vocal duties."
[Benjamin Chinnock, The Brag Magazine]
4 Stars ****
[Sandalo, Nichigo Press / Japanese language newspaper]
"No denying the '00s have had
an almost debilitating love affair with the '80s and Re-fashioned indulges this obsession with a Pommie accent. Featuring 19 tunes reworked by Oz artists like DJ Soup, Dsico, Deepchild and Ollo, Brit classics like Japan's "Ghosts", Culture Clubs "Do You Really Want To Hurt Me" and Depeche Mode's "Just Can't Get Enough" are reincarnated. Yes, it's another take on retro but at least it's a well-executed one. Better this than shoulder-pads."
[BW 8/10, Ministry Magazine)
"This is a collection of the UK's finest hits
of the 80s era, all remade with a modicum of taste and respect, by Australian electronic producers... Acts like 5000 Fingers Of Dr T, Deepchild, Jeff Dread and Telafonica have ... ripped apart [tracks] and reassembled them with equal doses of humour and respect. There are a few shockers, but at least they inspire a giggle, while the successful interpretations are quite impressive, Yum Cha's reworking of Japan's Ghosts being an instant hit with me. The more subtle interpretations leave a lasting impression and Majella O'Shea's take on The Man With The Child In His Eyes is a truly beautiful rehash of the Kate Bush classic. Deepchild create deep dub on Racist Friend (Special AKA) while one of Sydney's pioneering local dub producers, Jeff Dread, makes full use of some tasty brass on One In Ten (UB40). Other worthy contributors include Snorkel (Do You Really Want To Hurt Me?), Gotye (Just Can't Get Enough) and Don Meers (Forbidden Colours). Refashined 2 - British Airwaves boasts some of the finest electronic producers from our vast pool of local talent.... An eclectic and challenging compilation that proudly displays that talent."
[Whammo]

The Story behind Re-fashioned 2 - British Airwaves
As with Volume 1 of the Re-fashioned series,
it's perhaps the glaring omissions that are at first noticeable with this collection of tracks from the '70s and '80s. On a single CD it was impossible to represent the huge number of innovative UK artists writing and recording during this adventurous time in popular music. New Order, Au Pairs, Bauhaus, Pig Bag, Thomas Dolby, Sex Pistols, Gang Of Four, The Specials, Yazoo, OMD, (early) Tears For Fears, Cocteau Twins, Throbbing Gristle, Sixousie & The Banshees and many others are just as worthy of an update. Furthermore this collection is only a small cross-section of styles and standout songs - whether you think of the word 'standout' in terms of memories, originality, or simply commercial success. Interestingly, most tunes featured here topped the charts of their day and that in itself makes them remarkable. It's almost inconceivable that in their original form, some would do so in today's more conservative music environment. Of course there are tunes we desperately wanted to include which alluded us. What a shame the remake of Fox's Single Bed didn't materialise. Likewise our plans for Visage's Fade To Grey or an electro-ska version of Dexy's Midnight Runners' Geno joined a number of other wishlist entries with an 'X' by their name. Due to his own album commitments we also didn't get to hear just how psychedelic The Jam's That's Entertainment would have sounded with the Purdy treatment, whilst continual computer crashes sabotaged Sheriff Lindo's dub workout of The Clash and Sir Robbo's youth oriented Drug Squad by Steel Pulse - both are yet to download.
What we do have however, is a diverse collection
of both underground classics and well known acts/tracks that have made an indelible mark on our collective memories. More importantly they've been turned into amazing new tunes that stand-up on their own without the aid of romanticised references or the benefit of chemically induced recollection blackouts. If you lived through the times or have ever been to a retro night, some will be instantly recognisable. Others will have even die-hard fans scratching their heads. Centred around the late '70s /early '80s, the tracks here represent for us at least, a time when independent labels and new sounds found their way to the surface more easily and made the roller coaster ride of youth, bearable. It was a time when music had the ability to shape our politics, opinions and even our hair styles. An era when Matt Johnsons' The The charted Britain's (and in scary relevance to today, the world's) Americanisation. It was a time when Special AKA added their voice to a growing global call to Free Nelson Mandella, and Paul Weller or the mysterious 'Cappuccino Kid' outlined the evil deeds of regimes and western governments in large format record sleeves alongside pictures of shops we could only dream of visiting. Boy George and Jimmy Sommerville (Bronski Beat) bravely talked/sang about gay issues and Joe Jackson's ambiguous track Real Men somehow became a hit even in yobbo Australia (where he was incidentally punched whilst visiting after the song's release). This was the decade of artists like Ian Dury mixing ska, funk, pop and a crazy sense of humour to shock and befriend people with candid, semi-autobiographical tracks like Spasticus Autisticus. Sure, there was still trash clogging up the charts and keeping some of these acts from the number one position, as well as the usual fashion faux pas masquerading as musicians. And of course before long the '80s became a cashed up video age resulting in the UK's position as pop's number one repository of innovative talent seriously threatened. In secret however, independence was once again mobilising. By the end of the decade and into the nineties and beyond, countless new British labels and artists spearheaded a new generation who will also hopefully become Refashioned some day in the future with the same sense of awe, fondness, respect and of course fun.
Happy listening,
Groovescooter