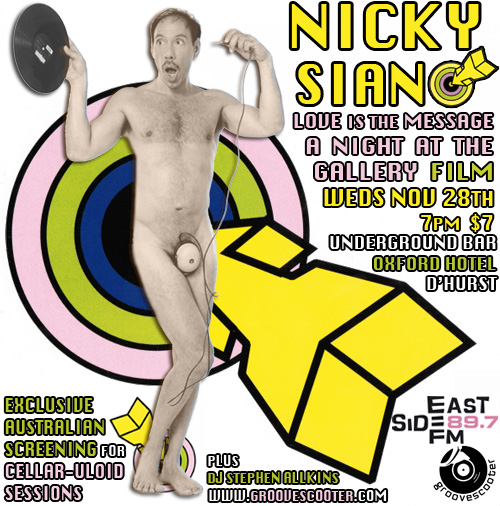 "Larry [Levan] and I would blow up balloons, set up the food bar, prepare the punch and give out acid, but we also spent a lot of time hanging out in the booth, watching Nicky's every move. He pretty much taught us what we were doing."
[Frankie Knuckles]

"Nicky Siano was the king of DJs.
He Was so fierce he could put on a record and people would scream."
[Kenny Carpenter]

Groovescooter and Eastside Radio's Cellar-uloid Sessions
return with the exclusive Australian premiere of a film about Nicky Siano's legendary nightclub The Gallery. Featuring interviews with Siano, Frankie Knuckles and David Mancuso, all footage was shot on location in the NY warehouse between 1976-77 and has now been made into a feature documentary with a soundtrack compiled and edited by Siano. Whether DJing dressed as the Statue Of Liberty - or in nothing more than a set of headphones (at the end of the night he was known to mix with his toes) - the flamboyant Siano opened his Gallery discotheque with brother Joe in 1972 (before Studio 54 or the Paradise Garage) redefining clubbing with a weekly party that inspired/launched the careers of Grace Jones, DC La Rue, Larry Levan, Loleatta Holloway and others. The inclusive, LGBT-safe environment was decorated weekly, a place where all the colours of the rainbow could be seen and heard, where dressing up was all part of the experience and where soul, funk, disco, gospel, Afro to r'n'b lived and spun in harmony on Siano's turntables.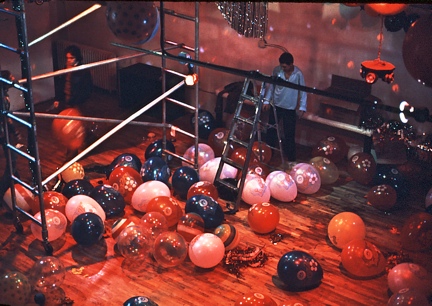 Setting up for a night at The Gallery [Image courtesy N.Siano/Inspira]

"Nicky Siano invented the segue."
[New York Magazine]

"At the end of the night he would sit down, take of his shoes and socks, and start to mix with his toes."
[Michael Gomes]
In the early '70s Nicky helped pioneer a new style of DJing, one which was to become a creative art in itself. Mixing records and sound FX on relatively primitive equipment compared to today's technology, it's no wonder Nicky became known as one of the best club DJs in New York and simultaneously scored himself a DJ residency at Studio 54. But it was The Gallery that became the hottest (and probably the most fun) party in Manhattan for a period. New York Magazine called it "one of the five most visually breathtaking nightspots of our time".

Thankfully, between 1976-77 a commited team from Tisch University's graduating class captured it all on film, including interviews at the parties, which have been edited into a feature length record of The Gallery's heydays.

Cellar-uloid Sessions Sydney Screening
NICKY SIANO: LOVE IS THE MESSAGE
A Night At The Gallery
7pm - Wednesday Nov 28, 2012 - $7 on the door
Cellar/Underground Bar, Oxford Hotel, Darlinghurst
Special Guest: DJ Stephen Allkins
Bought to you by Groovescooter and Eastside Radio
With thanks to Nicky Siano and Inspira Records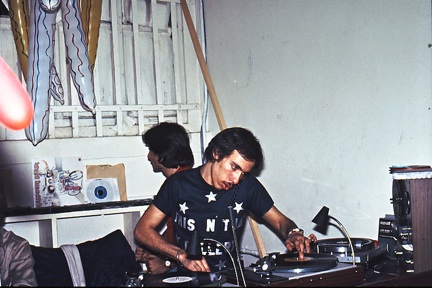 Nicky in action [Image courtesy N.Siano/Inspira]

Visit Nicky Siano here