The JAMES BOND THEMES GO UNDER COVER
Re-tapped Re-mixed + Re-activated 007 Classics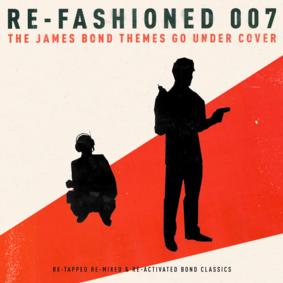 [click image for downloadable hi-res cover scan]
TRACKLISTING : RE-FASHIONED 007

james bond theme

001

JUNGLEHAMMER

tomorrow never dies

002

VELURE

surrender

003

FATT DEX + GOTYE

dubai

004

DON MEERS

from russia with love

005

INGA LILJESTROM

james bond theme

006

DON MEERS

we have all the time in the world

007

GAUCHE

goldfinger

008

SNORKEL + TINA HARROD

live & let die

009

JUNGLEHAMMER + PAUL SNATCH

drax's gambit [zero minus moonraker mix]

010

MOTHLOOP

look of love

011

LAKE LUSTRE + DORIT CHRYSLER

a view to a kill

012

OLLO + PETA MORRIS

the world is not enough

013

ALPEN vs COMATONE + CHRYSTAL LYNCH

james bond theme

014

ENS

Bonus Remix

live & let dub

015

DAKTARI remixing JUNGLEHAMMER
RE-FASHIONED 007 REVIEWS
Feature Album of the Week
[Radio Adelaide 101.5FM]
Feature Album
[Alchemy, SBS Radio, National]
"The James Bond films are just as famous
for their theme songs as they are for their glamour and excitement, and this excellent compilation (the third in indie label Groovescooter's Refashioned series, which commissions themed covers) does a gorgeous job of reinventing them, largely within the dance/trip hop realms. Though most of the artists aren't known on a wide scale, their reinterpretations of these classics are uniformly excellent. There are a few definite highlights: Inga Liljestrom's dreamy, hypnotic "From Russia With Love"; Ollo & Peta Morris' winding down of "A View To A Kill"; and Junglehammer and Paul Snatch's reggae take on "Live And Let Die." 4 STARS
[Erin Free, Filmink Magazine]
"Groovescooter Records has introduced some
wonderful Australian electronic music, but they also do an interesting line in cutting-edge nostalgia. For the label's third Re-Fashioned collection it's left the 80s behind and gone for all things Bond. James Bond. Perhaps the best of the series, Re-Fashioned 007 is a sensual and seductive tribute to a pop culture icon, as well as an excellent introduction to some exciting Australian artists. There are three rewired versions of the classic James Bond theme (the best by electronic maestro Don Meers) and two instrumentals, but the main story is the songs. OK, the lyrics were a bit dodgy but there were some beguiling minor-key melodies I'd forgotten about. The fun tracks are Junglehammer's infectious dub rewrite of Live and Let Die and Tina Harrod's attempt to out-brass Shirley Bassey on Goldfinger. Best, however, is when silky vocals are wafted over liquid electronics and simple guitar or keyboard lines, such as Inga Liljestrom's ethereal take on From Russia With Love, Gotye's Surrender and the 2am melancholy of Velure's Tomorrow Never Dies. Chilled and choice."
[David Curry, The Canberra Times]
"...From Inga Liljestrom's fragile and disconnected From Russia With Love, to Snorkel's brave attempt at the untouchable Goldfinger... the musical daring is worthy of 007 status." [City Hub]
"For those unfamiliar with the label, Groovescooter are a Sydney-based crew that specialise in abstract downtempo and soundtrack grooves. Re-fashioned 007 is the third in their series of cover albums and sees the Groovescooter roster take on classic Bond themes. It's the most cohesive of the series, with a Caribbean paint job tying together a wide range of interpretations. Junglehammer opens proceedings with [a] slick take on the James Bond Theme, reappearing later with Paul Snatch on Live and Let Die, the Daktari dub of which closes the album and tops the list of standouts. Don Meers and Ens offer their instrumental takes on the main theme, Meers making it sound like a creepy nightmare, while Ens delivers a funky microbeat soundtrack version. Fatt Dex and Gotye's bluesy trip-hop version of KD Lang's Surrender (the Tomorrow Never Dies closing theme) is a memorable take, with wandering vocals from Wally De Backer. Inga Liljestrom was always going to take From Russia With Love down a sparse, dark road (for goodness sake someone tell this girl a joke - she always sounds so sad). Mothloop get the prize for most visually inspiring with Drax's Gambit breaking in for one and a half minutes and firing off rolls of film. The've done a fine job of bringing together a long list of musicians and producing an album that can be digested whole despite its genre-bending girth. Good on you Groovescooter for having the balls to try something like this and the skills to pull it off." [Gareth Richardson, Perth Drum Media]
"We all know them, and most of us love them.
They conjure up plush images of casinos, fast cars, Ursula Andress and Sean Connery. Why it's "Bond, James Bond" of course, the remixes! Originally written by Monty Norman, the James Bond theme has been an integral part of the now infamous franchise. With the release of a new blonde Bond upon us, it's cash in time. Of the series of Bond films, there have been eight composers and countless singers, including the likes of Nancy Sinatra, The Pretenders, and naturally Madonna. However, Groovescooter Records have decided to shake up history a little with Re-fashioned, a polished compilation that injects depth into the classics. From the second you hear Junglehammer's James Bond Theme, you immediately return to a familiar place, one of comfort and aural sexiness. Cleverly chosen as track one, Junglehammer beautifully and calmly introduces the listener to the flow of this compilation CD. Whilst listening to Refashioned straight through, the track that immediately grabbed my attention was Inga Liljestrom's haunting version of From Russia With Love. With her signature sound and weightless delivery, Liljestrom has truly made this number her own. Another standout is A View To A Kill, performed by Ollo and Peta Morris, the latter coos softly on the track and is anything but that powerhouse voice we remember from her Paul Mac days. Refashioned is the perfectly lounge themed chill-out companion that should go perfectly with your summer martini... shaken, not stirred, of course.
[Natalie Reiss, Drum Media Sydney]
"Pop culture has a special place reserved for James Bond.
It's a gleaming retro-futurist space painted orange and black, rugged in white fur with top-note martini glints and the faintest olfactory trace of a recently discharged Berretta. At a recent MI5 gathering there the tunes were supplied by agents on this very CD. Among others, Ollo, Don Meers, Inge Liljestrom and the tech-acoustica subversion of rising stars, Gauche. Superb reworks worthy of immediate promotion to 007 status."
[Clive Smith, Bartender Magazine]
"The Refashioned series continues their
collection of cover versions, this time with the ambitious task of reworking the sounds of James Bond. It's a brave person who takes on the classic 'James Bond Theme', and a braver one who reworks it into a dub-reggae number. However, Sydney's Junglehammer manages to capture the mysterious mood of the song, complete with Jamaican rhythms. Elsewhere Snorkel and Tina Harrod take on the legend of Shirley Bassey's 'Gold Finger' with powerful vocals that easily measure up. This is a wonderful collection ."
[Chloe Sasson, Sydney Morning Herald]
"The Groovescooter HQ is at it again.
They've summoned the musical family together to refashion a theme and this time it'ss all about espionage as classic James Bond tracks go 'undercover'. Each artist received a top secret brief with the instructions; "You each have a licence to kill! Liquidate if necessary, but remember, these were some of the biggest pop songs of their day." Indeed. The result? An intriguing mix of interpretations from local and international musicians fusing electro, beats, jazzy dub and dangerous liaison. It's impossible to decide on who the best assassin is on this album as they've all done their research. Don Meers has revived the James Bond Theme, Gotye's vocal lashings force the listener to Surrender' while Fatt Dex has his back with the beats, Inga Liljestrom summons an arctic chill with a melancholy rendition of From Russia With Love' whilst Tina Harrod bravely tackles Goldfinger. Most of you would agree, I am sure, that it takes balls to tango with that tune and she executes it rather convincingly. Mothloop's version of Drax's Gambut is dripping with the smell of cold sweat whereas the Ollo boys increase the heat with Peta Morris (of Paul Mac). As they "dance into the fire" you can hear the seductive flames flicker all around. Finally, just when you thought you couldn't handle another remix of Burt Bacharach's famous, The Look of Love along come Lake Lustre and Dorit Chrysler to tar this old classic with a refreshing gloss of interest. Mission accomplished? I think it's safe to say there's something here for everyone, but it will definitely have a greater appeal to dub fans, James Bond devotees or just those looking to hear more from some of Australia's understated musical talents."
[Miss Nae, Cyclic Defrost]
3 1/2 STARS [Nichiago Press, Japanese language paper]
"Oozes all the charm and charisma that 007 possessed.
No wonder he got all those women."
[DJ Bentley]
"While the previous two volumes of Sydney label
Groovescooter's Re-Fashioned series have focused upon Australian electronic artists reinterpreting classic Australian and UK rock / indie / pop tracks respectively, for this third volume, as the loaded title suggests, the spotlight falls upon Bond. James Bond. It's certainly an extremely rich and diverse oeuvre to draw from; especially when you consider the number of classic Bond themes in the canon, as well as the number of big names who've graced the hallowed 'opening theme' stool; from chanteuse Shirley Bassey through to contemporary big draws such as Garbage and Madonna. Thankfully, the Groovescooter crew have done their bit to aid in excising Ms. Ciccone's rather flat contribution to the Bond series, as it's astutely not included here amongst the tracks covered, which are certainly drawn from all points along the Bond timeline, ranging from the classic 'Goldfinger', right through to 'The World Is Not Enough.' The cast of Australian artists here is certainly an extremely impressive one as well, with the likes of Ollo, Gotye, Velure and Fatt Dex making appearances alongside vocalists Peta Morris, Chrystal Lynch and Inga Liljestrom, to name but a few. There's also a perceptible dubcentric theme flowing through several of the tracks here, a focus explained in the liner notes by the compilers as being a tribute to Bond creator Ian Fleming's deep love of Jamaica (heck, he even retired there in a huge house called 'Goldeneye'.) There's certainly a deep dub presence from the very beginning with Junglehammer's spliffed-out reworking of the classic Bond theme, the familiar swirling strings and keys of the original swirling into view, only to be taken for a slow, blunted wander through lazy one-drop ragga drums, wandering clavinets and bottomless dub bass, some majestic horns tracing the familiar soaring riff against the hypnotic rhythms, before Velure turn Sheryl Crow and David Arnold's 'Tomorrow Never Dies' into stripped-down territory that certainly magnifies the sense of yearning packed into the original lyric, delicate acoustic guitar chords chiming their way beneath Lynette Moran's torchsong vocal, while subtle digital processing adds some interesting textural elements beneath the slowly clicking rhythms. Fatt Dex makes a welcome reappearance alongside Gotye, reshaping KD Lang's 'Surrender' (originally 'Tomorrow Never Dies's closing theme) into a desert-strewn slice of hiphop-infused downbeat pop that beautifully merges bluesy slide guitars, Wally De Backer's weary-sounding vocals and clicking loops in one of this compilation's biggest highlights, while Inga Liljestrom's haunting re-reading of 'From Russia With Love' transports the original track to considerably more ominous territory, blurred-out droning orchestral swells rising up beneath Liljestrom's icy vocals and the delicate plucking of a harp – you can almost feel the freezing Moscow winter closing in. Former Skunkhour keyboardist Snorkel (real name Paul Searles) and vocalist Tina Harrod (known for frequent outings alongside local legend Jackie Orszaczky) take on perhaps the most daunting number amongst the Bond backcatalogue; Shirley Bassey's signature 'Goldfinger' and emerge more than successfully, Harrod capably matching Bassey's powerful lungs (even if the original lyrics are still hilariously crap) as Searles scatters swirling synth-strings and a vague hiphop centred beat pulse amongst the loping bass and rippling cymbals. Junglehammer meanwhile offers up a ragga reworking of Paul McCartney's 'Live And Let Die' that certainly takes the most liberties with the original track out of all the covers assembled here, with vocalist Paul Snatch laying down his falsetto ragga croon over a skanking backdrop of drums and guitars, cavernous dub-delays crashing into the mix as ragga horns trace out the original's signature hook; I know of at least one Bond diehard who was bemused by it, but personally I found it to be amongst the highlight moments here. Ollo certainly manage to unleash one of the most spectral and cinematic moments here with their imaginative re-interpretation of Duran Duran's 'View To A Kill', Alex Crowfoot's haunting vocals duetting with Peta Morris' as deep swelling electronic bass tones wandering in a vaguely doomy fashion beneath glitchy, stuttering rhythms and eerie sampled orchestration – in fact, it manages to drag the original right away from Duran's catchy eighties Top 40 into goth-tinged territory that heightens the spookiness of the original chorus hook – 'Dance into the fire', indeed. For my money, 'Re-Fashioned 007' easily represents the most consistently strong volume in Groovescooter's ongoing covers series so far, with the diverse and extremely astutely selected cast of artists and producers pressed into service here certainly bringing a wide range of different reinterpretations to the table. It also represents the perfect jumping-off point for anyone interested in further exploring any of the Australian artists featured here – all of whom certainly come highly recommended; grab your martini and prepare to emerge stirred, not shaken."
[Evil Chris, InTheMix]
RE-FASHIONED 007 : THE FULL STORY
Fittingly, this third volume in our cover series Re-fashioned
opens with Junglehammer's dub-reggae remake of the James Bond Theme. Jamaican rhythms are revisited more subtly by numerous artists featured here and again by Junglehammer for Live & Let Die, as well as Daktari's fine re-rubbed dub. Why dub-reggae? Well novelist Ian Fleming ended up retiring to the Caribbean (in a house he called Goldeneye), while his infamous spy creation, James Bond was a regular visitor to the birth place of reggae, Jamaica. In fact the first book to be adapted for film in 1962, was Dr. No. It's plot follows 007's investigation into the murder of a Jamaican-based British agent. This was the first time the now iconic James Bond Theme had ever been heard, and the film didn't have a big vocal track opener like most of it's sequels. Written by the dapperly named Monty Norman (though public controversy abounded over the tune's authorship), the two minute theme was later orchestrated by John Barry. His version hit the British Top 20 and landed Barry one of the most prestigious soundtracking jobs in popular culture. Barry went on to score numerous Bond films for the next three decades and co-wrote many of the tunes that feature here. His 'Auric' touch was invaluable to the success of both the movies and their theme songs. John Barry's amazing chordal shifts, widescreen orchestrations and unmistakable sense of drama, intrigue, romance and abandon, meant his sound became a bankable trademark for countless hit songs, which despite the odd questionable lyric, always managed to capture the grandeur, sex, delusional power, innuendo, humour and exotic locations of the sometimes ludicrous screen plots. Arguably, the books themselves had a much better grip on reality.
When Barry teamed up with Duran Duran in 1985
for A View To A Kill, his stamp on the original's dramatic stabs, seemed unmistakable. It's impossible to know if the song would have topped both the UK and US charts, had it been left completely in the hands of Le Bon and Co., but it's perhaps a shame they didn't ask the film's towering goddess villain, Grace Jones to guest on vocals. Regardless, it remains one of the most successful 007 songs of all time. We're not sure why Barry wasn't able to salvage A-Ha's Living Daylights (also a hit) two years later, but it's one of the reasons we've left their theme (a low point alongside Madonna's Die Another Day) well alone. In the hands of Sydney's Ollo, the lurches of the original View To A Kill become beauty stabs, as Peta Morris (known more as a disco diva from Paul Mac hits) duets with Alex Crowfoot in an almost camp, fireside requiem for those daring to dance too close to the flames. When we began asking people to cover tracks for this project, it was clear from the outset that Shirley Bassey was in a league of her own. Many felt her songs were as out of reach as the diamonds she sang about. The huge voice of Bassey torched three JB themes; Diamonds Are Forever (1971); 1979's less memorable Moonraker (only hinted at in this set with Drax's Gambit - named after the film's billionaire antagonist Hugo Drax); and Goldfinger, which premiered just months after the death of Bond creator Ian Fleming in the mid-'60s. Who better to tackle Bassey and her most famous 007 track, than remarkable Australian singer Tina Harrod. Her work with funk legend Jackie Orszaczky (including their Bond orchestra shows) has seen Tina shake the gold fillings from many punters' teeth. Harrod teams up here with former Skunkhour keyboardist Paul Searles, who now works on horror film scores. Paul also plays in numerous bands and occasionally puts out music under the Snorkel alias. The pair's rendition forsakes none of the original drama, but adds touches of dub for an obeisant update on the 1964 classic. Much later, in 1997, KD Lang dazzled us by coming close to a Bassey-esque torch song in Tomorrow Never Dies. Surprisingly, Lang closed the film with Surrender, a song covered here by Fatt Dex, who makes a welcome return to the land of the releasing (and also to this series) teaming up with Melbourne's golden voiced lad, Gotye. Their version wears the pair's love of the '80s in a boldly unconcealed holster. The opening theme for the same film was written by Sheryl Crow and new generation Bond scorer, David Arnold, who himself released an album of 007 covers a few years back. Melbourne trip hoppers Velure, led by the velvet voiced femme fatale Lynnelle Moran, cover this one, turning in another faithful homage to the Crow/Arnold blueprint.
Whilst we enjoy a version that faithfully pays it's respects,
this series is also about turning tunes on their heads. In other words, versions that are 'shaken, not stirred'. Abstractionists Gauche perform such a stunt beautifully with their liquidation of 1969's We Have All The Time In The World (from the film On Her Majesty's Secret Service). Originally sung by Louis Armstrong and written by John Barry and lyricist Hal David, Gauche completely re-locate things, but still recall all the tragic romance of the melody and film, in which womanising bachelor James Bond becomes both a husband and a widower in the space of two hours. It was this film which saw original Bond actor Sean Connery (surely the sexiest and best 007) hand over his Walther PPK to George Lazenby, an Australian model-turned-actor from the otherwise unremarkable, but all too familiar town of Queanbeyan. (It's no state secret that Lazenby is one of our uncles and that Queanbeyan is the source of dire childhood memories requiring much deprogramming!) For local lad Lazenby, with his broad Aussie accent, to become Bond, was pretty surreal at the time. It was well before Australian actors began having success overseas on a large scale and the Star Theatre in Monaro Street put on a little shindig premiere for their hometown hero, followed by a knees-up at the oh-so-classy Queanbeyan Leagues Club. Now that's something that certainly "never happened to the other fellow"! Lazenby hasn't looked back since and you could say he's been lucky enough to dine out on the one-time role for the rest of his career. He later starred in kung-fu films (including cult-classic The Man From Hong Kong) and those fantastic Bond inspired Benson & Hedges cigarette commercials from the '70s, when smoking was yet to be frowned upon and the mere inhaling of the right brand offered smokers an international passport to success, according to a certain fag brand's cinema campaign. James Bond smokes profusely in paperback (remember those custom made Turkish/Balkan blends with the gold rings?), yet strangely, on screen you'd be hard pressed to find Sean Connery, Roger Moore, Timothy Dalton or the most recent Bond actor, Pierce Brosnan lighting up anything more than a villain's hideaway. Brosnan first hit the screens in 1995. That was the year feminism caught up with the spy, in the form of Judi Dench playing a female M (007's boss at MI6). She famously gave him a long overdue backhander. Brosnan survived M's tongue lashing and was still on screen in 1999 when the 19th Bond movie, The World Is Not Enough premiered. Following the now famous, recurring opening view down a blood soaked gun barrel, was a track from American group Garbage. Danny Jumpitz (Alpen) and Greg Seiler (Comatone) leapt at the opportunity to refashion this, the most up-to-date theme song covered here. Teaming up with vocalist Chrystal Lynch, they turn in a wonderfully wry version of this fatalistic tune which sadly heralded the final time actor Desmond Llewelyn portrayed gadget man Q on screen. Llewelyn passed away not long after the film's release.
Back at the other end of the time line
is 1963's From Russia With Love. Like the first Bond film, this one featured an uncharacteristic instrumental opener, reworked on screen later with vocalist Matt Monro. This was a perfect choice for singer/producer Inga Liljestrom to remake. Flipping the gender, it's as if Inga steps out from the film's gypsy camp for a stripped back, Baltic rendition that has an almost ghostly vibe (or should that be s.p.e.c.t.r.ely vibe?). Being fans of incidental film music, we also wanted to link some of the vocal tracks with instrumentals that captured the varying moods of 007 adventures. We therefore asked celluloid moodsters Don Meers and Ben Fairweather (Ens) to provide some shorter segues. Both remake the James Bond Theme in startlingly different ways, something that has been done over and over by everyone from reggae and ska groups like The Skatalites and The Selector, to more contemporary electronic acts like The Propellerheads and Moby - but hey, never say never again, right? Meers also takes some cues from the now debugged cold war era plots, for his Dubai spy theme, while our own tribute to the outer space setting of Moonraker, serves the same, vocal intermission, purpose. We follow this track up with one of the first remakes to reach our ears, Lake Lustre refashioning Burt Bacharach's Look Of Love. The song comes from the 1967 Bond spoof, Casino Royale - one of only a handful of films to star Woody Allen where the bespectacled anti-hero wasn't also the director/writer. Strangely, Casino Royale is also the title of the 21st James Bond flick, which is filming as we complete this album. Lake Lustre (aka Joe Scerri) currently lives in Switzerland, a place Bond is all too familiar with, yet his cover version, like 007 conspiracies, is a story of jet setting. For Look Of Love, Scerri recorded the piano in Malta (in a 300 year old farmhouse hideout no less) whilst other sounds were sourced on assignments in Barcelona and Cuba. The 1950's music box you hear in the track comes from a Havana ice-cream vendor's street stall (thankfully the vendor wasn't named Tee Hee and didn't have a finger crunching mechanical steel appendage, or penchant for voodoo!). Then there are the sex kitten vocals and theremin in this latest revamp of Look Of Love, supplied by New Yorker, Dorit Chrysler. With her provocative singing style, Dorit manages to channel everyone from bad girls Fatima Blush and Pussy Galore, to soft touch femmes like Bibi, Solitaire, Moneypenny and of course, Britt Ekland's Mary Goodnight.
And what a purrfect surname to end our story with.
Most of us may only live twice - according to Fleming it happens once when we're born and once when we die - but the James Bond themes will live forever. Here at least they get a new lease of life.
From Groovescooter, with love.
ALSO AVAILABLE
Re-fashioned 1
Antipodean Classics

Re-fashioned 2
British Airwaves