BEAT STREET
30TH ANNIVERSARY SCREENING
7pm, Weds November 26, 2014
@ PLAY BAR, Surry Hills
with DJ Frenzie + Breakdance comp

ON-LINE TICKETING HAS NOW CLOSED
$5 ON THE DOOR- BUT GET THERE EARLY!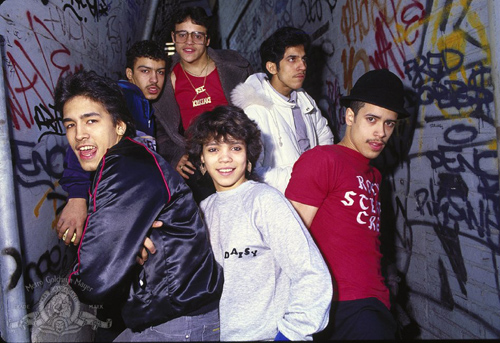 Set in New York,
and featuring everyone from Grandmaster Melle Mel, Kool Herc and Afrika Bambaataa through to the Rock Steady Crew, this seminal hip hop drama stars a young Rae Dawn Chong, Guy Davis + Saundra Santiago and was produced by Harry Belafonte. Arthur Baker headed up the music department (who could forget his Breakers Revenge from the soundtrack?) and the film's music and moves made an indelible mark on budding hip hoppers the world over, not least here in Australia where it found an enthusastic cinema audience. Released in 1984 (not a bad year for music films, given this is our second 30th anniversary retrospective screening for 2014) Beat Street inspired many local DJs, breakers, MCs and graff artists and so we thought it was a fun (and cheap) way to wind up a really successful screening year for Groovescooter following a load of sell-out cinema screenings in 2014 and some memorable Q&As.

We're happy to have skilled turntablist DJ Frenzie (Groove Therapy) live on the wheels of steel for the night as we also invite breakers to strut their stuff after the film. Winners in the breakdance competition will take home some great prizes, plus we'll have DVD and vinyl giveaways for those not quite up to showing off their toprock, downrock, power moves, and freezes. Judges for the Breakdance competition include Rosano Martinez (aka El Assassin) of groundbreaking Aussie crew Westside Posse/Sound Unlimited/Renegade Funktrain (who performed with the film's Rock Steady Crew at Sydney's Hordern Pavilion in 1984, the year the film came out!) and local B-girl CATWMN (aka Catherine Tsang) whose floor skills see her performing in competion both here and in Singapore.
BEAT STREET SCREENING
7 PM, WEDNESDAY 26 NOVEMBER, 2014
PLAY BAR
BASEMENT, 72 CAMPBELL ST SURRY HILLS
TICKETS: $5
PRESENTED BY GROOVESCOOTER, EASTSIDE FM
FUNKDAFIED+ PLAY BAR

Watch the Trailer here

Besides anniversary screenings, Groovescooter regularly premieres new documentaries in Sydney, often giving locals the first opportunity to see fresh music-related films in Australia. We were behind the Australian premiere of the Stones Throw story Our Vinyl Weighs A Ton (months before it screened at SXSW) and also premiered Nicky Siano's Love Is The Message well before its international release, alongside music docos like the Brothers Hypnotic about the Hypnotic Brass Ensemble. If you'd like to hear about our regular screenings, feel free to join our newsletter.